Billing section in user Control Panel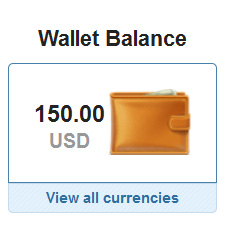 Dear Resellers,
The latest release of our in-house Control Panel brings a new section, where your customers can see information about their billing (wallet, payment requests and auto-renewals), orders and invoices.
You can view this section's links under the "Account" navigation tab, "Billing" column.
It features the following innovations:
Wallet is redesigned for the new Control Panel, allowing your clients to fund an electronic Wallet, which they can use to buy services. The option aims to free clients from having to complete order forms for every purchase and download invoice each time an order is submitted.
Wallet Flow tab presents the incoming and outgoing transactions related to your wallet balance.
Payment Requests tab presents the proforma invoices for the incomplete orders (e.g. when the order is attempted to be paid via Bank Wire).
Auto-Renewals tab presents the services which have auto-renewal option enabled, the exact renewal price and the next recurring bill date.
Completed/Pending/Canceled/Incomplete Orders tabs presents the orders and their items, pricing, etc. Incomplete Orders have an option to resume payment for unfinised order.
Invoices tab presents the invoices issued upon payments.
This new section's goal is to give clients simple, but at the same time broader view of the financial status and processes in their account.
ResellerCluster Team