If you have some kind of a small business, you definitely should be online. And if you have any type of a business related to the web environment – like, say, a web agency you definitely should boost your sales and product portfolio by enrolling in our reseller hosting program. And whether you are already online or you are about to be, a local SEO strategy is a must.
And if your business is small, there are even more reasons for you to go for local SEO. It is one of the cheapest and most beneficial digital marketing practices in the long term.
Furthermore, local SEO is easy to implement, especially if you have a business blog. The earlier you start to optimize your business blog's content, the sooner the results of doing so will come. Even if you are taking your first steps in online entrepreneurship, you will improve the average position of your website in Google's SERP.
Local SEO Meaning
We've already covered the basics of SEO. And local SEO is a lot similar. People are searching at home and on the move. And if someone is looking for a business like yours while in the neighborhood if well conducted the local SEO will guarantee you an impression in Google's SERP.
Thus, you'll have a higher chance to get a new customer.
Local SEO definition:
Local SEO or local search optimization is the process of optimizing your owned properties to generate traffic from location-based searching.
Start Hosting Company for FREE
Local SEO Checklist
At the end of the article, you'll find a link from which to download the printable checklist. Yet, some of the recommended actions are straightforward, while others will be better understood when explained.
The printable local SEO checklist consists of 8 actions to take if you want to optimize your content for local-based searches. These actions are:
You need to understand and remember that SEO is not something you do once and forget about. You should constantly optimize the content on your website.  Thus, try to perceive this local SEO checklist as something that you need to look up to frequently.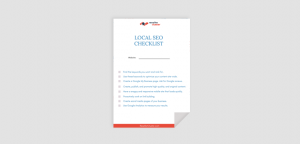 Find the keywords you want and rank for.
There is no SEO without the keyword. You need to know the keywords that you want to rank for. And whether you have a small business or a worldwide enterprise it is the same. The keyword is at the core of all SEO practices.
And that is clear to everyone who knows what SEO is.
No keywords, no ranking.
If you choose, use, and optimize for the wrong keywords, your website will emerge in non-related searches, and thus, will soon be removed from the Google SERP's.
Thus, think through the words you want to rank for.
This is the first step.
Use these keywords to optimize your content site-wide.
Now that you know what keywords are important to your business, try to use them as much as possible in your text but yet, strive for your content to be relevant and to sound natural.
Try to explain the topic that you are writing about like you are explaining to a friend, but still use the keyword whenever adequate.
And don't leave this content optimization just for the articles in your blog. Your product descriptions and even your homepage could benefit a lot(and thus your website) if well optimized.
Bear in mind that some of the keywords, may, and probably will be related to the region or the city you are optimizing for.
Create a Google My Business page. Ask for Google reviews.
When was the last time you looked up for a restaurant in Google Maps? Yesterday? Today, maybe? Have you ever wondered how Google knows where exactly the restaurants are located? Well, the owners of these small or large businesses submit them in Google My Business.
As said in some of the late 90's commercials  'And that's not all'.
If someone searches for a business similar to yours, your Google My Business submission might outrank their website. And people will be able to see how your customers evaluated your business and read their reviews. The searcher will see(if you add them) the working hours of your business, a phone number, and much more.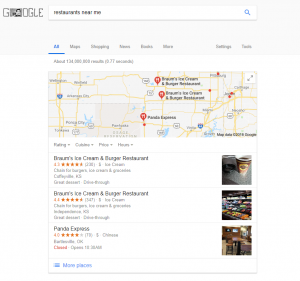 If you decide to use Google My Business to further improve your local SEO, make sure that your clients, especially the pleased give you a review. Those whom you managed to enrage, will write their reviews. No need ask them for that.
Create, publish, and promote high-quality, and original content.
The content creation process doesn't end with when you click 'publish'. A good piece of content can become great if correctly promoted. And a great piece of content may become mediocre if not promoted at all.
Thus, once you publish something that you honestly believe its worth reading, promote it. We've published an article,  with a list of 5 tools for small business that you might want to use when promoting your content.
Have a Snappy and Responsive Mobile Site That Loads Quickly.
The speed of your website is one of the important predictors of your SERP ranking. The faster your website is, the more people who chose to enter in it will stay long enough for it to load. Thus, the lower your bounce rate will be, and the more relevant your website will appear to Google.
And because we are making a local SEO checklist, it is of higher importance for you to have a mobile version of your website.
It's not the case that you won't need a mobile website to rank worldwide or country-wide, but in the local searches, the chances are that people are on the go, somewhere in the neighborhood, looking for your business. When they land on your website, you want them to be able to explore it effortlessly.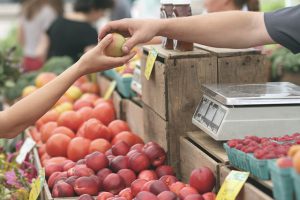 Proactively Work on Link Building
As I already said, the local SEO is not so much different from any other type of search engine optimization. You need your keywords, you need high-quality content(only locally optimized), you need a snappy website and a responsive design, as you will see, you need social signals.
Of course, you will need backlinks. The more, the better. Just strive for relevant backlinks from high-authority websites.
Create Social Media Pages of Your Business.
Yeah, social media is one of the best ways to bring traffic to your website. But it is good for much more than that. Social signals which are translated to the engagement of people with your social media page and the number of links they share between each other in different forums, like Reddit and Quora, and social media platforms like Facebook and Twitter, is also a big factor in SEO.
Use Google Analytics to measure your results.
Every once in a while, you need to check what your efforts achieved. Whether you reached the SERP ranking, you were striving for, or not, the efforts you put into your local SEO strategy, are not to be discontinued.
But to go in the right direction, you need to be able to evaluate your work. You can do that by using Google Analytics.
Final Thoughts
Whether you have an already launched and established business or you are just planning to start(here is a little entrepreneurial inspiration), you will be glad to follow this local SEO checklist.
You can download it by clicking here.
And whenever you need a reminder or inspiration, you are welcome on our blog!