If implemented correctly, social media will immensely impact the amount of traffic on your website. Yet, to be able to execute anything in the long-term, it will be best for you to have a plan to follow. Thus, creating a social media strategy is crucial to the performance of your social media channels.  
Being part of the generation that was neither too young nor too old when the social media platforms virtually took over the internet, I had the privilege not only to be mesmerized by their impact but also to tame their power. My generation grew up alongside these platforms, and we mutually changed each other.
Our behavior on the networks changed them, and they changed the way we communicate and understand each other.
However, in the same way that the previous generations, generally, didn't understand the continuity of the mass media, our generation doesn't fully realize the script behind all the posts that we see on the social media platforms.
We know, of course, that a group of people is reasoning the content of all these business feeds, but most of us don't know that all the posts are part of a marketing strategy.
What is a Social Media Marketing Strategy?
As already mentioned, the pages (not personal accounts) on any social media platform are posting by following a plan, that tells them what, when, and why to post. What results could be expected from the post, and so on, and so forth.
For the social media strategy to be well executed, you'll need to follow these steps:
Target Audience: Identify your ideal customer
Goals: Define the results you want to achieve with your efforts.
Content Mix
Channels: Choose the best of the available social networks.
Execution
Target Audience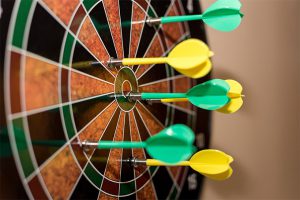 Identifying the target audience is as important to your market positioning as it is for your social media activities.
As the topic of defining your target audience deserves an article per se, it is unnecessary to dive way too deep in it. Yet, we should at least glance on the surface, for you to be able to define your target group when creating a social media strategy.
Curious to know more? Here is a great article on audience segmentation.
The most important thing you need to remember when trying to describe the customer you would call 'the best'  is that you don't need to be 100% accurate in the image that you are creating.
To define your target customers as good as possible, start with the demographic factors:
Location
Age
Gender
Income Level
Favorite sites/apps:
Whether you are selling physical goods, or you have a reseller hosting business, you need to know where your customers are from.  This will help you with the choice of language to use, as well as with your promotions and advertising targeting. The same goes for the age and the gender of these people.
When it comes to favorite sites, I think the necessity of this knowledge is obvious, as you'll save money and efforts if your business is present on the platforms, websites, and apps, where its customers are.
Those are the basics of targeting, and if you follow them you'll get a clear image of what you can and can not expect from your 'best customers'. Although the image you'll get is a very broad one, you'll be better off, following the guidelines that you've established, instead of trying to appeal to everyone.
Goals
Whether you are creating a social media strategy or a new website, or you writing a book, everything you do, needs to have its goal.  That way, you won't get lost while attending to everyday tasks.
The goals of your social media presence could be either to get more traffic to your website, get leads, build brand awareness, or merely to engage in a conversation with your customers.
Once, you know your target audience, and the goals of your social media strategy, it will be much easier for you to find out what type of content you need and will create.
Content Mix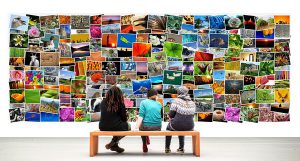 Speaking of content types, after you are familiar with the goals of your social media strategy, through which you should evaluate every action you take, let's talk about the content mix.
The social media marketing is, in essence, a type of content marketing. You are just doing it on a media that you don't own. Still, social media websites are a great place to promote your POV's, beliefs, and… products, of course.
The content marketing will lead to better results when it's diversified (in compliance with the target audience, needless to say).
Some of the most popular elements of the content mix are the following:
News
Inspiration
Education
Product/promotional posts
Contests and giveaways
Community events
Q&A
And they can be implemented in different types of content, like:
Text
Images
Videos
Infographics
Case Studies
White Papers
Start Hosting Company for FREE
Do I Have to Be on Every Social Network?
Being on social media, for the sake of it, is not enough. These platforms are way too much for someone to be capable to maintain an account on all of them simultaneously. Furthermore, it is wrong.
You don't need to have an account on every social media platform possible.
To identify the social channels you need to use, is way easier, once you've identified your best customer. Knowing who the people you want to be your customers will help you define the right platforms for your business.
How?
You already know where these people spend their time.
Find out the answers to 9 more social media questions.
Social Media Tool
As the number of social media platforms grows, so the available tools, created to help you execute your social media strategy.
Yet again, some of the newly created tools, won't be helpful to you. The reason for that is simple – they are created for the maintenance of social media that you are not using.
But there is a tool that takes into account all the main platforms. Even more, they offer a free version, which is giving you more than enough resources when you are just starting your social media presence.
Spoiler alert: I believe the resources offered with the free version of the tool, will be enough for every small to middle sized business.
Definitely Check Buffer Out!
Final Thoughts
If you want to succeed in your social presence, creating a social media strategy is a must. Not following a plan, will leave you to wander from a platform to platform, not understanding what, why and when to do.
And if you decide to go without overthinking it, believe me, having something to turn to when the results are neither the expected nor the desired, you'll be pleased that you've created a social media strategy.
More Digital Marketing Articles: