Resell XEN VPS & Cloud Solutions
Reseller Cloud Hosting – provide your customers with flexibility and reliability at the utmost performance level. Offer professional XEN Virtual Private Server (VPS) hosting solutions to your clients who are looking to grow their businesses.
Do your clients require unmatched flexibility and complete control over the system hosting their online services? Break the limitations of Shared Hosting and fixed applications and start offering virtual servers from your own branded company. Become a VPS Reseller and offer customizable Virtual Private Server plans through our reseller cloud hosting platform. Virtual Private Servers are cost effective solutions for businesses which want the power and flexibility of an independent server without the high cost and complexity that are involved in managing dedicated hardware. As a VPS Hosting Reseller you will be able to meet all of your client's web hosting needs.
What are the advantages of reselling VPS hosting?
With our VPS hosting plans you can offer your more demanding clients high quality services aimed at quickly growing sites with lots of traffic and various custom features – VPS hosting can also be especially beneficial to sites with varying traffic throughout the year.
Providing VPS and cloud hosting services is a great plus for your business, because these plans are much more profitable than the shared plans due to the state-of-the-art resources and features that they offer.
Below are the most important features of our VPS / Cloud reseller hosting plans. There are many more options included in all of our hosting plans – however, you can always set up your own custom plans with your their own configuration.
What is a VPS?
All ResellerCluster VPS plans utilize the XEN VPS Hosting technology to divide one physical server into multiple virtual servers. Each virtual server can run its own stand-alone operating system, and each server can be rebooted and customized independently. All VPS customers are given full control over their VPS through ROOT Access and our custom Server Control Panel.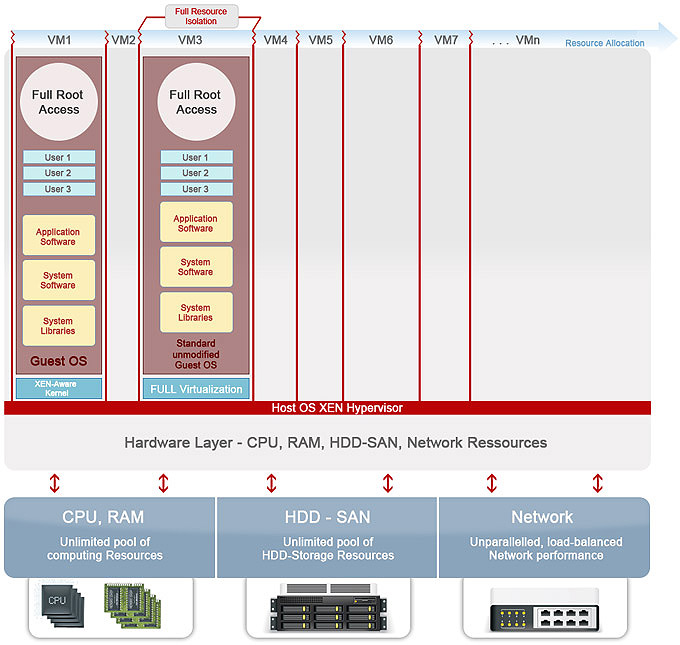 The ResellerCluster VPS Control Panel
All ResellerCluster VPS plans are powered by XEN as well as our custom-built Server Control Panel allowing you to restart, troubleshoot, and carry out general administrative tasks on your VPS. Additionally, your clients will be able to manage all of their websites, accounts, emails, and databases. The XEN VPS Hosting technology provides absolute freedom in terms of server management.
Host and manage multiple websites on one server.
Have better control over your hosting environment.
Support multiple levels of access.
Install any custom applications that your website requires.
Manage your server thanks to our Server Control Panel.
The Virtual Private Server is an affordable solution that is giving you limitless potential, but requires less technical knowledge and involvement than having a physical dedicated server. Your clients will have complete control over their server software, while we are maintaining the hardware and keeping it online. Our reseller VPS plans feature the latest state-of-the-art processors from Intel® as well as premium server hardware to give your clients the power and speed they need. Moreover, should the needs of your clients change, they are able to upgrade easily and get just as much additional resources as they require in that particular moment. The customizability offered by our reseller cloud hosting ensures that your customers will pay only for what they need.