Free reseller hosting with free software installs for your clients.
You can sign up as a free host reseller and start selling services instantly via our free storefront templates that you can use with a free subdomain or with your own domain. When your clients make an order from your site it is automatically transferred to our system and we charge the customer and process the order. We take care of administration, billing, support, and chat with your clients on your behalf. All you need to do is to attract traffic to your site and set the retail prices (your profit is the margin between the wholesale and the retail prices). As our reseller, you can offer absolutely free shared hosting, paid shared hosting, reseller cloud hosting, VPS and semi-dedicated hosting, domains, and SSL certificates, as well as 50+ free script, installs that include various tools for the creation and management of commercial sites.
What is Zen Cart about?

Zen Cart is an open-source software package developed exclusively for shopping websites and based on PHP. As our free reseller, you may offer it to your clients as part of our free software package. Zen Cart is designed to help inexperienced site owners to develop their business online. It supports different currencies and multiple languages you can easily switch templates with a few clicks, manage individual and quantity discounts, and the latest prices. With Zen Cart, you can enable various categories, catalogs, images, downloads, email sending, banners, fees, and coupons.
Do I need osCommerce?

With osCommerce you can easily set up an entire commercial website, it is freely distributed and requires basic PHP and MySQL server support. There are thousands of add-ons and helpful documentation you can use for free. You can create different categories and add all kinds of product attributes, reviews, images, banners, and more. You'll have no problems customizing the site's layout and header, sending newsletters, and tracking your clients' activity on the site. With osCommerce you can use a wide range of payment methods including PayPal, 2Checkout, Sage Pay, WorldPay, iPayment, ClickandBuy, ChronoPay, and Authorize.net.
Why should I use OpenCart?

OpenCart is easy to install and configure shopping carts with an intuitive interface perfect for inexperienced users. OpenCart offers pre-made templates that instantly give your site a professional and finished look. It supports multiple languages and currencies, as well as unlimited categories and products for your shop. With OpenCart the users of the site can easily add their own reviews and ratings, look for similar products, use discounts, download files and print their invoices. If you're a quality free host reseller you should offer various shopping tools to your customers.
What about PrestaShop?

PrestaShop is an open-source solution for your online business. With this e-commerce software, you can import lists of products directly from Excel files and change individual items, make discounts and enable product comparison. PrestaShop enables you to sell your products on third-party sites like eBay and Amazon as well. You can add your products to eBay in a few steps and you can additionally install other add-ons for more online stores. Customers can create their own accounts and wishlists, add reviews, and by using various payment methods. You can offer promotions and automatically add fees and taxes according to the country or product type.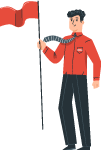 Sign up for Free
ResellerCluster's Hosting Reseller Program is completely free. If you want to start your own business today, do not hesitate and sign up now.
Become a Hosting Reseller Today. It's Completely Free.
ResellerCluster's Hosting Reselling program is completely free. You can create your white label hosting company in a matter of minutes, not days. And yes, it is free.