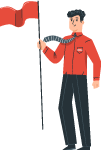 Sign up for Free
ResellerCluster's Hosting Reseller Program is completely free. If you want to start your own business today, do not hesitate and sign up now.
Become a Hosting Reseller Today. It's Completely Free.
ResellerCluster's Hosting Reselling program is completely free. You can create your white label hosting company in a matter of minutes, not days. And yes, it is free.