Resell free web hosting via our automated system and offer your customers the tools they need to launch any kind of website
Our free reseller hosting program is absolutely free. You can offer free and paid shared hosting, VPS and semi-dedicated plans with free software installs that include applications for the creation of galleries and media sites. All these software packages are automatically installed with our 1-click Free Software Installer, so your customers don't need to go through the long installation process. You don't need any previous experience or technical skills to join our reseller program and resell quality hosting, domains, SSL certificates, and even free hosting with no ads. Use your own domain to offer our services remotely from your existing site or get a free subdomain with our free storefront templates to start reselling hosting from your own hosting store. Our templates are pre-made hosting stores that can be set instantly. Sales and billing are automatically managed via our system; we take care of servers' maintenance, tech support, and chat with your clients. As a free web hosting reseller all you need to do is to promote your site and determine your prices (as a reseller you get the retail prices and set your own wholesale prices, the margin is your profit).
What are Zenphoto's advantages?

Zenphoto is a content management system that allows your free reseller hosting customers to create websites with rich media galleries including different video and audio files. It is a flexible tool that enables you to create galleries with numerous features via its simple graphical interface. Zenphoto is SEO optimized and offers handy features like scheduled publishing, comments, creation of custom pages and menus, various themes, watermarks, and passwords that can be enabled for every page.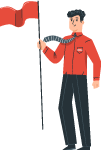 Sign up for Free
ResellerCluster's Hosting Reseller Program is completely free. If you want to start your own business today, do not hesitate and sign up now.
Become a Hosting Reseller Today. It's Completely Free.
ResellerCluster's Hosting Reselling program is completely free. You can create your white label hosting company in a matter of minutes, not days. And yes, it is free.