How do my affiliates get paid?
There are four different payment methods through which your affiliates get paid: PayPal, Moneybookers, Bank transfer, Paper check.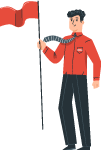 Sign up for Free
ResellerCluster's Hosting Reseller Program is completely free. If you want to start your own business today, do not hesitate and sign up now.
Become a Hosting Reseller Today. It's Completely Free.
ResellerCluster's Hosting Reselling program is completely free. You can create your white label hosting company in a matter of minutes, not days. And yes, it is free.