Joomla! Reseller Hosting with Free Software Installer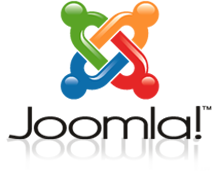 The automated Joomla installer is a part of our free website hosting package that you can offer to your clients as a reseller. Joomla! is a content management system (CMS) that allows you to build and customize complex online applications. The best part is that Joomla is open-source and completely free to use. You don't need any experience to become our free reseller with your own domain and branding. And you will be able to provide your clients with our Joomla installation tools as part of the best web hosting out there.
Joomla! is one of the most widely used content management systems today. It powers everything from simple personal pages to corporate business portals all across the world. Joomla can help you run the following types of websites:
Corporate websites and portals
Small business sites
Real estate portals
Online magazines and newspapers
Educational and religious websites
Personal or family-related sites
Fully-functional social networks
Third-party companies' sites
With Joomla! you can easily manage your site, upload pictures and text in just a few seconds – it is a very approachable content management system that is relatively easy to learn to the point where you are able to run a successful Joomla! site.
Bringing Joomla! to the next level
The basic Joomla! the package is very straightforward to install and our helpful Zacky Installer reduces the entire installation process to just a few clicks. It is included in all of our hosting plans for the convenience of your clients, so they can upload and start using their Joomla! websites with as few issues as possible. And if they have any problems our Support Team will be happy to assist them in the resolution of any issues in the fastest and most efficient way possible.
Once Joomla! is installed it is just as straightforward to upload photos, text, articles, or any other type of content. Switching templates is easy too. If you can use a program like Microsoft Word, you can learn how to manage a Joomla! site. Thanks to its simplified interface you can easily publish news, articles, as well as create categories and menus instantly on your site.
Joomla! for end-users
The basic Joomla! package with our Free Reseller Hosting Program works great for managing articles and has all of the features a common website needs. A lot of people, however, value Joomla! for its immense flexibility. The customization possibilities are practically limitless with Joomla! because there are thousands of extensions out there just waiting to be installed. With the right combination of add-ons and plug-ins, you can turn your Joomla! site into a complex web portal. Some of the Joomla! features that are available on our hosting plans include:
Forums and chat
Bulletins and e-mails
Document management
Gathering data and financial statements
Dynamic form-building
Business directories
Banners and ads
E-shops with sophisticated checkout systems
Calendars
Blogs
Catalogs
Image and multimedia galleries
You can find a ton of applications, plug-ins, and add-ons in the Joomla! Extensions Catalogue. Prepare yourself to be stunned by the vast amount of options you will find there. They are all compatible with our web hosting plans.
Joomla! for developers
A lot of companies or developers have demands that go beyond Joomla!'s basic capabilities. Fortunately, Joomla! is built on a powerful and flexible framework that allows developers to create the applications and extensions they need.
Using Joomla!'s framework you can create:
Integrated merchandise systems
Product catalogs
Communications systems
Storing facilities systems
Complex business directories
Report systems
Reservation systems
Yeah, right. What's the catch?
No catch. It is all true! Joomla! is free, open-source and always will be. Both our free and paid hosting platforms support it out of the box and it is really easy to install thanks to our Automated Zacky Installer. You can get started right away! Even for inexperienced resellers offering free hosting with free software that can be automatically installed is a great advantage. In this way your hosting store will attract many users that are looking for free or cheap hosting with simple tools for the management of their sites.