We all know starting something new is sometimes scary. Doesn't matter what it is – a business, a website, a relationship, or a new job. The thrill of the new beginning is always there and it doesn't get less until you're absolutely sure about it.
But when it comes to developing a website, not only you have to assure yourself, but also everyone else who is going to visit it. So, how to advertise a small business in its new beginning so that we can make our users believe in ourselves? How to start with our first steps in online entrepreneurship?
There are a few absolutely necessary things to be done, the rest are by your choice, but here are they: the seven steps to how to advertise a small business.

1.Blog
Of course! And not because we have one, but because everyone should! Blogging is helpful for a huge amount of useful aspects. We shared with you a few times how to be the best possible blogger.
When you start writing important articles connected to your content and the essence of your website and business, you make it possible for your users to understand you more.
Blogging has turned into a job for people who have influencing personalities. But in the business world adding a blog to your website is just the last ingredient for your cake of success. Start a business blog now and you won't regret it later!
2. Social Media
Social media is one of my favorites. It's not just because I'm a millennial but also because it has turned everything into something of a "next-level". It's in our lives every day, as the coffee we drink in the morning, as the ride to work we take, and as the dinner that's taking too long. It's all around us – not only in the posts of our meal but in the news spreading all around faster than a cheetah.
Enough with the comparing. The next four articles are perfect if you want to learn what mistakes to avoid and what is the best way and time to post on social media channels. Enjoy!

3. SEO
I can only assume, for beginners, SEO is not so well-known and they're not familiar with the essence of the optimization doors in the house of search engines. Anyhow, I've collected some articles about that tools.
Keep in mind that, even if you don't start optimizing your new website right away, at some point you'll have to do it. It's the only way you can achieve some great results. Furthermore, adding optimizing to your website is a great opportunity to finish the cake, we started cooking a while ago.
4. Google Ads
Google Ads is now a really great way to help small businesses and people who are just starting to develop their websites. It's an opportunity to advertise your work at not such a high price and get good enough results.
It helps you get to the right people at the right time. Furthermore, you will stand out from your competition. Slowly you go up to the ladder of success. Make sure you find the right keywords, target on location, set the right budget, take care of your landing page, use search and display networks, and of course – track your results.
More useful tips you can find here:
Using Google AdWords: 6 Tips for Small Business Owners
5. Mouth to Mouth
Now, that's an advertising weapon that has been used for many years now and still has the same power. It's one of the most efficient ways to get people to hear about you, know about you, and hopefully, like you.
Nowadays mouth-to-mouth looks more like shares on Facebook or Instagram than talk in a coffee shop. Still, it's the same influencing flame that lights the fire of a successful marketing campaign.
The effectiveness comes from the trust that people have when they hear about something from someone else. According to Nielsen, 92% of consumers believe recommendations from friends and family over all forms of advertising. If that's not good enough reason to believe mouth to mouth is the best advertisement, what is?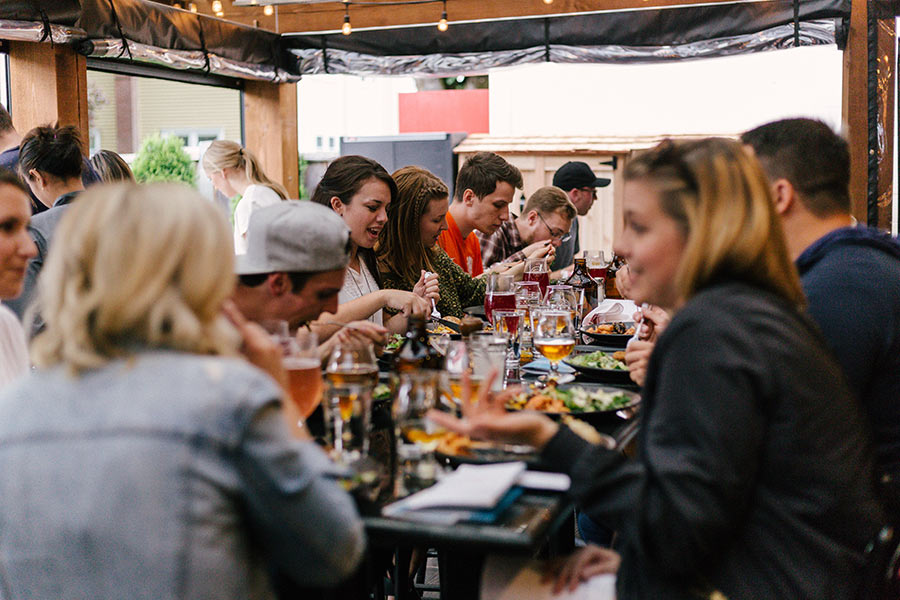 6. Build Relationships
Speaking of people trusting you and talking to one another about you, we should not leave far behind the connection you will have with your customers. Being present for everyone, being there for them, is your start.
Start with creating an FAQ page to answer all their questions. Include s "subscribe" option, send them emails, talk to them. When time is convenient for you to start support chat, email or talk.
In the reseller hosting business though, you don't need the support, because our support team is there for your customers too! So, we can save you time to advertise your business and grow. It's all so that you can get more website traffic!
7. Co-Sponsor an Award or Giveaway in a Contest.
Here's my final tip for how to advertise a small business. This is something you need to do when you already gathered some speed. When you have enough content and followers, or users. Then you can start thinking of some marketing strategies.
Promotions and discounts are a great way to attract more and new people. Different occasions can create beautiful campaigns no matter if they're just on social media or in Google too. After you feel ready, you can think of a sponsor to help boost your abilities.
Maybe you can even think of a giveaway in a contest. Create something interesting for your customers that it will involve them by sharing, commenting, or whatever you think of. Give them something after that to reward their time.